Weber.cem Lightweight
High-build, cementious mortar for vehicle and soffit repairs.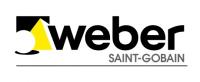 Weber.cem lightweight is a polymer-modified, cementitious mortar mix, with specially selected lightweight fillers. It is pre-blended, contains a polymer powder and simply requires the addition of clean water to produce a mortar suitable for both soffit and vertical repairs in situations where high-build replacement with conventional concrete is impractical. Since its introduction in 1985, weber.cem lightweight has been widely used in concrete repairs because of its ability to be applied on to vertical and soffit surfaces.
Uses:
High-build concrete repairs
Repairs to soffits
Repairs to building structures
Features & Properties:
High-build up to 75 mm in soffit patch repairs, without formwork.
Easy to apply, excellent application properties.
Excellent adhesion to well prepared concrete.
Factory pre-blending eliminates onsite mixing errors and variations in quality, availability and grading of local cements and aggregates.
Can be overcoated with weber.cote anticarbonation coatings for optimum protection of reinforced concrete.
Technical Data:
20 kg weber.cem lightweight with 2.4 litres of water cured at 20°C.
3 days
7 days
28 days
Compressive strength
(BS6319: Pt 2: 1983)
20 N/mm2
23 N/mm2
30 N/mm2
Tensile strength
(BS6319: Pt 7: 1985)
-
1·6 N/mm2
2·5 N/mm2
Flexural strength
(BS6319:Pt 3:1983)
-
4·5 N/mm2
5·5 N/mm2
Plastic density (with 2·4 litres of water)
Working life: 30 to 40 minutes depending on temperature
Permeability:
Tests carried out by Queens University Belfast using CLAM test. Samples soaked for 24 hours prior to test (permeability coefficient only) weber.cem lightweight with:


Permeability coefficient
(m/sec)
Initial absorption
(m/sec)
2·4 litres water per 20 kg
1·21 x 10–14
22·1 x 10–14
OPC concrete mix with
w/c ratio 0·6
48 x 10–14
211 x 10–14
OPC concrete mix with
w/c ratio 0·4
2· 3 x 10–14
19·6 x 10–14


back to Concrete Repair Mortars