Can you just?
Feb 11 2016
Having been involved in the concrete repair of bridges, car-parks, dams, tower blocks and other major structures for over 25 years, it never ceases to amaze me how many unusual tasks one is asked to perform year in year out.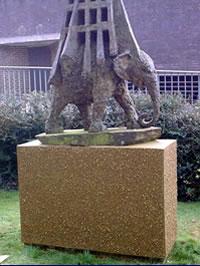 These strange and wonderful jobs usually begin during an innocent conversation with a friendly engineer, who having spoken for several minutes about the inner workings of one's ongoing concrete repair projects, suddenly throws in those quintessential words "can you just?"
Fortunately for us, these little jobs often bring on a positive sense of wellbeing and achievement for all involved in them, and chance for workmen to interact with people from many different walks of life on a professional level, a small benefit often lost within the frantic pace of the concrete repair industry.
| Concrete repairs and pebble-dashing to the monument at the entrance to Stevenage Museum.
back to News