Concrete Renovations Ltd Secure £600K package with Cambridge University
Feb 11 2016
Concrete Renovations Ltd have secured a £600,000.00 concrete and stone repair contract for the restoration of one of Cambridge University's most iconic buildings.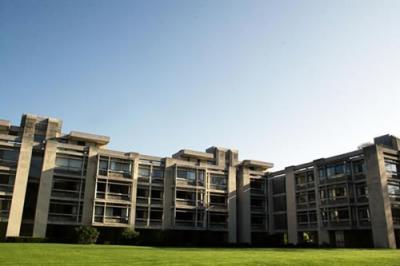 The Cripps Building at St John's College is undergoing major refurbishment and Concrete Renovations Ltd are carrying out the concrete repairs works to the Grade II* listed exterior. The works package also includes Portland Stone repairs and internal structural strengthening work utilising the Sika Carbidur system of plate bonding. During the work, the external surfaces of the stucture will be gently cleaned using the DOFF cleaning system to remove decades of contamination and vegetable growth. The concrete surfaces will be repaired and protected using Remmers restoration mortar and protective coatings.
Repair Matching
Being Grade II* listed it is imperative that all concrete and Portland Stone repairs closely match the appearance of the existing structure. However; having received varying degrees of weathering over the years, the Cripps Building has many different colours, shades and textures to the concrete and stone and where heavily weathered aggregates are visible at the substrate surface. This makes it impossible to carry out a sympathetic repair using standard repair products.
Careful preparation made it possible to match repairs to the existing building. By carefully weighing and mixingRestoration Mortar shades, a blend was found that was a suitable colour match for an area, selected aggregates were blended and added to the mortar to allow a finish and texture suitable for each repair. It was necessary to create and record many physical samples which could be offered in each location to find the correct mix for each individual repair. Completion expected Summer 2014.
History
Powell & Moya's Cripps Building at St John's College, Cambridge, which was listed in 2009 at Grade II*, has enjoyed a good press from the time of its completion in 1967. The Cripps Building, accommodating 200 undergraduates, was the result of a benefaction remarkable even by Cambridge standards. The entire cost (over £1 million in 1967) was met by Humphrey Cripps (1915-2000), an alumnus of the college.
back to News