MARGEL VPI 580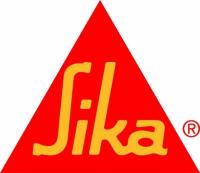 Vapour phase corrosion inhibitor for reinforced concrete structures.
Margel DCI 580 T is a complex blend of Vapour Phase Inhibitors which tackles the problem of reinforcement corrosion by a unique three pronged approach.
Margel Fast Action Component:
Margel fast action quickly vaporises and permeates the concrete substrate. Its alkalinity ensures early passivation of corrosion as it is adsorbed to the reinforcing steel surface, blocking the path of Chlorides, Water and Oxygen, the fuel of reinforcement corrosion.
Margel Medium term Component:
Slower to vaporise Margel medium term supplements and replenishes the protection afforded from the initial fast action component. This forms a greater bond strength barrier to extend the period of protection.
Margel Long term Component:
A complex ethanolamine derivative that provides long term protection. The very slow release of this component (over a period in excess of twelve months) gives the extended adsorbed protective care to steel reinforced concrete structures.
Margel DCI 580 T is supplied in a 10ml hermetically sealed cartridge. Each cartridge contains a blend of all three active ingredients and should be installed by a Margel approved contractor to the exact dosage recommended by the manufacturer.
Technical advice should be sought in the identification and specification of problems associated with reinforcement corrosion in concrete.
The use of Margel DCI 580 T negates, in many cases, the need to remove existing coatings and remove latent defects in the concrete. Testing concrete prior to application is important and should be carried out to determine the extent of carbonation, amount of chlorides and rate of reinforcement corrosion. Based on these results and the pattern of reinforcing steel, the exact dosage recommendations can be made by the manufacturer.
MARGEL CARTRIDGE WITH PERFORATED OUTER LAYER: The Margel DCI 580 T Microporous cartridge containing the blended components of fast, medium and long term protection.
MARGEL APPLICATION INSTRUCTIONS:
1) To cleaned and repaired concrete areas, 25mm holes are drilled to a depth of 55mm in a grid pattern spaced 1m apart horizontally and 50cm staggered vertically. To beams and columns the spacing should be calculated from survey data but on no account should the spacing be greater than 1m apart in the centre of the sections.
2) To the dust free hole a 1cl (10g) cartridge of VPI 580 is placed
3) Following insertion of the cartridge, a wadding pad is placed and the hole is infilled with a concrete repair mortar used in general repairs.
4) The blend of all 3 inhibitors in the 580 product tackles the problem of steel reinforcement corrosion in concrete by migrating through the concrete and coating the steel with a mono-molecular coating locking out corrosive forces and stabilising the structure.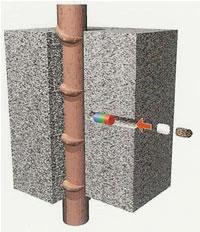 back to Corrosion Inhibitors