WEBER.COTE CLEAR AND SMOOTH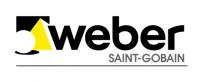 Mulsicoat clear and smooth coating.
The weber.cote clear and smooth coating systems provide excellent anticarbonation protection with a minimum 15 years life expectancy. weber.cote smooth is both protective and decorative, while weber.cote clear protects concrete surfaces without significantly altering their appearance. All systems can be applied by brush, roller or spray

Uses:
Weber.cote coatings can be applied to most building materials, e.g. concrete blockwork masonry renders.
They are not recommended for common Fletton brickwork.
Weber.cote clear is particularly suited to affording protection to exposed-aggregate, precast-concrete cladding panels.
Weber.cote smooth may be applied to brickwork for decorative.
Features:
Excellent anti-carbonation coatings
Durable – life expectancy in excess of 15 years
Resistant to chloride ion ingress
Coatings allow vapour diffusion
Agrément approved as part of the weber.cem Concrete Repair System
Colours:
Weber.cote clear is a colourless coating.
Weber.cote smooth coating is available in colours from the standard, premium and designer ranges. Specifiers should consult the Colour Charts, available from Weber, and whenever possible, obtain samples prior to specification.
Technical data:
Anti-carbonation test results
The permeability values μ CO2 are: weber.cote clear* 2·82 x 106 weber.cote smooth* 2·07 x 106
The μ CO2 for good quality concrete is 400.
To protect concrete from carbonation, these coatings should be applied to clean, dry, sound substrates in a minimum two coat application to give a pinhole free surface. Porous or friable substrates should be treated with one coat of weber.cote primer prior to coating.
Water vapour diffusion:
Both coatings are breathable, allowing moisture within the substrate to escape.
Equivalent air layer thickness (max. 4 metres Klopfer) weber.cote clear* 0·3 m weber.cote smooth 0·9 m
*After 2000 hours weathering
Weber.cote Clear & Smooth / Anti-carbonation coatings
Concrete Renovations - Concrete Repair Specialists
back to Anti-carbonation Coatings